After some extensive research in effort to quantify the effectiveness of video marketing, the Aerial Photo Media team has put together some interesting facts, data, and tid-bits of information pertaining to video marketing on the internet.
Why Video Marketing is a must
"If a picture is worth 1,000 words, than a video is worth 300,000 words" (Nadira Hira, Direct to Consumer Wine Symposium)
One minute of video has as much value as 1.8 million words (Forrester Research)
80% of US Internet users recall watching a video ad (Online Publishers Association)
65% visit the marketer's website after viewing a video (Forbes)
Videos are shared 1,200% more times than links and text combined (Simply Measured)
Video promotion is over 6 times more effective than print (Atlas)
"People love video, it reveals transparency, demonstrates lifestyle, allows for response to customer comments, shows graphic branding" (Silicon Valley Business Journal)
Recent statistics on wine social media show a marked increase in usage. Newman (2010) found that 700,000 people view wine-related videos every month (com)
Video marketing provides viewers with a positive memory of your product, encourages sharing of the story/brand, is more likely to go viral (compared to text ad) and more capable of being reused by the winery (Social Media for the Wine Industry – Silicon Valley Business Journal)
"Guess what the world's second-largest Internet search engine is? It's YouTube, and it is owned by Google, too." "With video, you control all the factors around relevancy" (com)
In Our Backyard
"St. Supery – Located in the Napa Valley, hired a Director of Social Media who instituted several social media campaigns on Twitter and launched online wine videos. The results increased St. Supery's Facebook fan page to one of the largest in the industry at over 5300, and in one case allowed them to sell 390 cases of wine in 72 hours" (Bakas, R. (2010) The ROI of Social Media in the Wine Industry -Winebusiness.com)
Macro Video Consensus Data From Comscore in 2014:
2 million people in the US watched 52.4 billion online content videos in December 2014
The average American spent more than 19 hours watching online video per month
Professionally produced video optimized for eCommerce outperforms user-generated video (UGC video) by 30%, delivering a 24.7% lift as compared with an 18.7% lift for the UGC video
Sales site visitors who view video stay two minutes longer on average and are 64% more likely to purchase than other site visitors.
From Advanced Auto Parts (the US leading auto parts distributor) About Video:
"By including how-to videos both on its site and Facebook has led to some surprising findings.  Visitors who watch video stay on the site twice as long and visit twice as many pages versus those who don't see video.  And, sharing those how-to tutorials on Facebook further increases the retailer's reach."
From Zappos.com
"Content Team Senior Manager at Zappos.com spoke on the video commerce session about what they're doing with video and how effective it is. It's so interesting that we had to talk about it as well. Since they had $1.2 Billion in sales last year, they seem to know a thing or two. Rico was interviewed by Peter Cervieri of ScribeMedia.org at the show and talked about how they're using video to drive sales. They use the video to describe, use and demonstrate the products with real Zappos employees and not models or actors. Those videos are said to have a sales impact of 6 to 30% which has prompted Zappos to strive for 50,000 videos next year (they have about 8,000 currently)." (ReelSEO.com)
More from Forbes Magazine:
The graph below illustrates the percentage of marketing respondents that use each content or offer: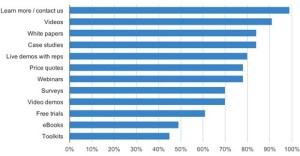 Video Improves Your Search Engine Visibility
You've seen it before. You do a search and the top three results are all videos. Google and Bing want to show your video as part of the mix. In fact, if your competitors consistently beat you at the search engines and they're not using video, adding video to your marketing mix might be the best way to leap frog them in the page one results. (Takeflyte.com)
You Can Get a Lot of Mileage Out of a Single Video
Once you've created your video and uploaded it to YouTube (or Vimeo) you can embed it back into your blog to increase its reach. But don't stop there: you can promote it (driving traffic) from Facebook, LinkedIn, Twitter, Pinterest, Google Plus, your email newsletter, your podcast, and just about any other social media channel. You can also take the same video and upload it directly to Facebook for even greater reach and engagement. (Takeflyte.com)